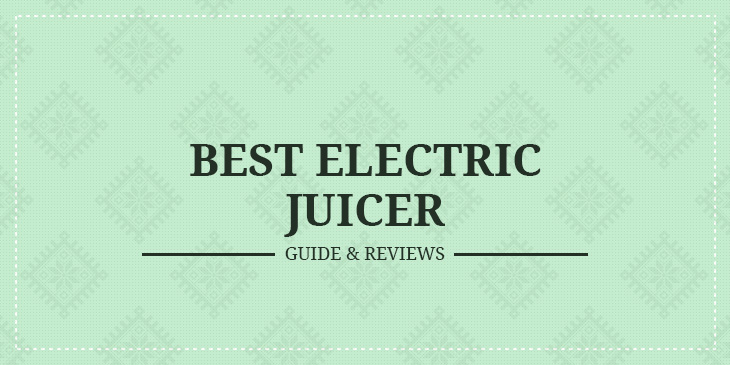 Best Electric Juicers – Guide & Reviews
Electricity is the backbone of technology before the electric juicers came people were using manual methods for making juices.
The citrus juicing, for instance, were done manually; this tends to be cumbersome. The electric juicers have made the juicing process very easy and fast.
There are three types of juicing machines; centrifugal, masticating and triturating. The difference is that centrifugal grind, masticating chews and triturating press produce.
Establishing your needs is a step in knowing which juicer will work best in the kitchen. Nonetheless, this review I have listed below my favorite picks.
Factors To Consider : Best Electric Juicers
Electric juicers are the best juicers it's not being biased but speaking the truth. They are very efficient and fast except masticating juicers.
Then again they are designed to be slow.Why buy a juicer that might end up breaking down after a while. Buy something you will be able to live with it for a very long time as juicers are supposed to.
Well if you're interested in buying a juicer then the whole ordeal might be hectic. With the overflow products in the market, one can be confused in finding the best one for you. Here are some of the characteristics to look for when buying any juicer.
Easy To Clean
The juicer you buy should be easy to clean which can be detached and reattached easily. The electric juicer usually has sharp blades that at times can be dangerous for you when cleaning, so it's better if they come with their personal cleaning brush.
Warranty
This is a must for any juicer or more so any product you purchase. The warranty gives a sense of security. The more the warranty period is, the more the product is reliable and durable. I would recommend that you look for a product that has more than 12 months.
What You Will Be Juicing
Whenever you decide to buy a juicer you kind of know what you will be juicing if it's either fruit or vegetable or even both. You will buy the juicer that suits you best. It's also important to know the method of extraction you are looking for in a juicer.
Size
This is important that the size of the juicer should not be big. A large juicer can perform well that's no doubt so will be a small size.
Most kitchen areas are small, and adding a large juicer will only make the kitchen congested. But if your kitchen has big space a large juicer can also work.
Price
Planning is essential; you just don't plan to buy something blind. You need to have a budget plan, and a price should not be a deal breaker if adding a few dollars can make you land a good efficient juicer then you should totally go for it.
Recommended Best Electric Juicers
The savtm JE juicer is a masticating juicer also best known as a slow juicer. If you want to get full nutrient from either vegetable or fruit then definitely this masticating machine will do just that.
The juicer comes with a 250w motor with a low speed of 37RPMs this ensures the juicing process end product will maintain the natural taste and nutrients.
The wide feeding chute, which measures 3.1 inches will ensure no more preparation time. The wide chute is capable of accommodating large produce.
This simply means no more chopping of ingredients. The large chunks reduce oxidation since the bigger the size the harder they get oxidized.
Very easy to clean since to dissemble is quite easy. Not to forget that it comes with a cleaning brush and even better all parts are dishwasher safe.
The high juice yield is impressive, the strainer base and the valve provide a sealed space to hold juice during juicing.
Pros
Dishwasher safe
Made with anti-oxidation material
Easy to clean
High juice yield
Big wide chute
Cons
Cannot juice too hard or too soft vegetables and fruits
Slow
Juice comes out a little pulpy
This two in one machine works as a grinder and juicer. It's just perfect for a price of one you find both a meat grinder and tomato juicer.
The grinder/juicer is very powerful making the grinding or juicing activity very fast. It's engineered with 1800 watts of power ensures maximum performance.
The magic mill is designed with a stainless steel body for easy cleaning. The tubes are very easy to clean when using hand and most importantly it's fast.
So no unnecessary time wasted on cleaning.The grinding head is size 12 it's a large grinder which will be able to handle large quantities quickly this saves time.
The feeding tube has a two diameter that insertion of meat and tomato juice will be easy. It reduces the time required for slicing them into small pieces.
Tomato juice is healthy and very nutritious, this juice has been linked with losing weight.
It's one of the best juices that you should incorporate in your diet to maintain or lose weight. This machine juicer strictly juices tomato juice.
Pros
Easy to clean
Fast
Powerful
Big feeding tube
Portable
Durable
Cons
Not dishwasher able
Noisy
Instructional manual not clear
Grinding machine gives off an odor of burning motor
The Jack LaLanne juicer performance are high and extract 30 percent more juice compared to other juicers.
This centrifugal juicer has a 250-watt motor that spins the stainless steel cutting blade at 3600 rpm. The juicer is designed with automatic pulp remover.
This doesn't require you to remove the pulp manually this saves time. To top it up, the pulp collector is super-sized meaning you don't have to stop juicing to clear the pulp.
Still, saves more time.Interestingly it comes with a large feeding chute this also saves time on preparation.
The large feeding chute ensures you don't need to chop them into small chunks. Fruits will fit perfectly as a whole.
It is easy to clean since the dissembling method is easy and clearly indicated in the handbook. The cleaning process is very easy and doesn't require a lot of time.
If you want a juicer that saves time in almost every process, then the Jack LaLanne juicer will suit you best.
​Pros
Easy to clean
Large feeding chute
Automatic pulp remover
Yields good juice
Affordable
Dishwasher able
Cons
Doesn't process softer ingredients.
Noisy.
Clogging.
Fruit/ veggie pieces tend to jump out of chute if the plunger isn't in it.
Most citrus fruit juicers have been for years manually operated, meaning that it will be slow and requires energy. The electric citrus juicer is a big step for the citrus juicers.
It's the electric juicer is fast and efficient. The vonshef juicer will squeeze all the juice in any citrus fruit with ease, and the speed is just perfect.
The juicer has two interchangeable squeezer attachments which enable the juicing process to go without a glitch.
The two years warranty that the juicer comes with is quite impressive. It shows guarantee and reliability of the product. Easy to clean to and fast.
It has a stainless steel cylinder design and has a pouring lip with a drip stop for collecting the freshly squeezed juice straight into a cup.
Low power of 85w means that all the nutrients are maintained which might end up lost if the power is too high. It also saves energy and doesn't make excessive noise.
Pros
Good warranty
Easy to clean
Easy to use
Efficient
Durable
Not noisy
Cons
A bit slow
Transparent gadget
Motor is weak
No pulp control
Definitely, you want the best juicer for use and power grind juicer is the best. It has the flexibility to prepare quality juices at a fraction of minutes.
This power grind juicer is multi-panted hybrid technology combines masticating and centrifugal capabilities.
They preserve crucial enzymes and nutrients and still extracting so much juice volume.The sleek, compact design improves the kitchen décor.
Apart from that its size is great, it fits on the kitchen counter perfectly.Most importantly is very easy to use and anyone can use it.
The warranty that the juicer comes with is superb. Its 12-month warranty that shows the dependability of the product.
Comes with extra-large detachable pulp basket, this ensures you save time when you don't have to empty the pulp now and then.
The easily detachable pulp makes it easy for the cleaning process. The juicer is BPA free meaning safe for use health wise. It's easy to clean since its dishwasher safe.
​Pros
Both masticating and centrifugal
BPA free
Easy to clean
Extra-large detachable pulp basket
Good warranty
Durable
Cons
A bit noisy
Expensive
The housing made from plastic
A bit slow especially in masticating part
Final Verdict
The right juicer can kick start your healthy living habit. So when choosing the best juicer that works for you best and caters, all your need will benefit you the most.
This review I have listed my top most picks and things to consider for buying a juicer as a guideline.