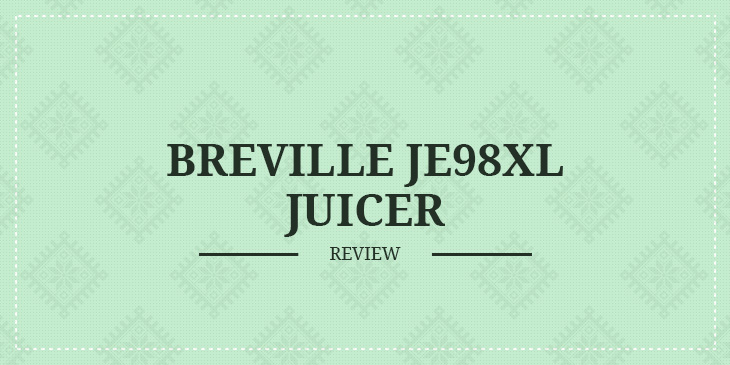 Breville je98xl juicer Review
One of the most recommended ways to keep healthy is byadopting a habit of drinking healthy juice extracted with the best juicer available. Naturally processed juice has proven to be effective in keeping your health in check.
The juicer you buy will determine if you will have a satisfactory juice drinking lifestyle or not. Take time to determine your taste and preferences before you embark on the juicer selection part.
You need the kind of juicer that will always be there to serve you with great-tasting, and Breville je98xl juicer is the perfect choice.  It is a juicer that will be there to deliver the yummiest nutritious juice whenever you are thirsty for it.
The level of engineering put into the designing of this juicer will impress you. If you don't know how to see a machine's quality, the taste of the juice will guide you. Here is what you need to know.
Powerful Motor
The Breville je98xl juicer uses an 850-watt motor with dual speed. The motor together with the stainless steel cutting disc and stainless-steel mesh filter basket extracts juice at a powerful speed. With such a powerful motor, this juicer is suited to serve serious juice enthusiasts.
Nothing about its performance will not impress you. The juice extraction is gentle, and the energy consumed is little, which makes it a perfect juicer in all levels.
Minimal Heat Generation
This juicer functions with minimal heat generation. Unlike most other centrifugal juicers, the Breville je98xl is ingeniously designed to produce less heat. In fact, it only generates 1.8 degrees Fahrenheit of heat to keep the naturally occurring enzymes intact.
This results in the collection of high quality juice that tastes good in the mouth and resourceful to your health. Heat destroys nutrients and compromises the natural juice taste, which is why you will be lucky to own tis juicer.
Durable Structure
I wouldn't want to spend on something that will not last long. The only problem is that most of the time we go to a store to buy a machine, we lack the knowledge to tell if a machine is durable or not.
Hearing from someone who has had an experience with the machine can help. From my experience with the Breville je98xl, not many juicers can beat its durability. It is designed with the most thoughtful engineering and is made from durable materials.
Safe to Use
The Breville je98xl boasts a number of safety qualities that protects both the user and the machine itself. It is an extremely safe machine to use.  It will extract every last drop of juice from an ingredient without blowing up or heating up excessively.
It has overload protection that keeps it from damaging the motor. The exterior is covered with insulating materials that offer great protection to the user.
Elegant Design
The juicer comes with all the necessary component and is complete and ready to go. Everything perfectly falls into place. It is easy to put together and all its components are molded to serve their respective functions properly.
The juice looks attractive from the exterior and perform just as well on the inside. It provides a stress free juicing experience and a delicious tasting juice.
>>> Click Here To See Specifications, Customer Reviews & Rating <<<
Pros
• High juicing speed
• Simple to use and clean
• High juice quality
• Good value for money
Cons
• Foam on juice
• Makes noise
Frequently Asked Questions
Q: Can I use it for a big family?
A: Of course you can. Breville je98xlis fast and is perfect for making large quantity of juice. It comes with a big juice collection jug that fills fast.
Q: Is it a good choice if I have limited counter space?
A: This juice is not bulky at all. It does not take much counter space and therefore no cause for alarm.
Q: Is there oxidation now that is extract juice fast?
A: Being a fast juice extractor, expect little oxidation but not so much that compromises natural enzymes' presence.
>>> See More Questions and Answers <<<
Final Verdict
For the last couple of days that I've been using this juicer, life has become better, and my health is literally at the peak. I drink more natural juices and my juicer never disappoints. There is no better way to enjoy a tasty juice if not by a good juicer like this.