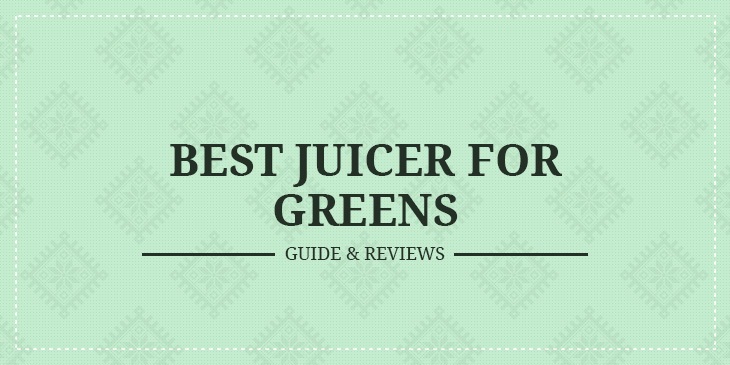 Best Juicer for Greens – Guide & Reviews
The tastiness of the juice you drink can be determined by the quality of the juicer you use. There are lots of amazing juicers that you can choose from, but not all of them can give you exactly what you are looking for in natural juice.
For those who love leafy green juices, there are juicers that have been made for greens. The best juicers for greens will give you the yummiest juice you can ever imagine.
I have tested lots of juicers, and I can tell you that you need to be careful with what you buy. Here are the best juicers for leafy greens.
Factors To Consider : Best Juicer for Greens
The way you choose juicers on the shelves may vary with the ingredients you are looking to use it on. Here are some factors you need to look for in the best juicer for greens.
Feed Chute
The size of the chute will determine the size of ingredients that it accommodates. If the feed chute is too small, then get ready to chop the ingredients into smaller pieces.
Big mouth wide chute save your time since you won't have to spend too much time chopping the ingredients.
Big feed chute can accommodate ingredients in whole, and even if you have to chop them first, you won't have to chop them into smaller pieces.
Capacity
The capacity you choose will depend on the number of people you expect to serve with fresh juice. If you have a big family, then you will need something bigger.
If you are alone or few, you should go for a smaller juicer.It will save your money, time and the quality of juice will be good.
That, however, does not mean that bigger juicers do not make quality juices. Your need should guide your choice.
Versatility
Sometimes it is convenient to buy a juicer that can be used to juice a variety of ingredients.
Most juicers can be used to juice vegetables, fruits, leafy greens, and nuts among many other ingredients, but there is always the main ingredient that a juicer juices best.
I think the more ingredients a juicer can work on the better and the more economical it is.
Space Consumption
You know how much kitchen counter space can be vital. Most of us will go for juicers that will not consume all the space on the kitchen counter.
The lesser space it assumes, the better. If you want something that assumes a smaller space, then you might be forced to buy a smaller juicer. However, there are some that are big but can be dissembled to be stored.
Recommended Best Juicer for Greens
This is an excellent piece of technology, created to serve you right. This is a masterpiece as far as good quality juice is concerned.
It boasts some of the most innovative features you can ever think of in the industry.
This countertop powerhouse will provide you with a quick and trouble-free way to make nutritious fruit and green vegetable at home.
It features paired juicing screen and heavy duty vertical single auger that makes it strong and durable. Once you buy it, you are sure it will last you a long time, providing you with tasty juice during that time.
It is ultra-quiet and doesn't make noise that would irritate users in any way. This Fruitstar Juicer has a safety switch which ensures that ensures the unit only turns on when properly assembled.
It also features a powerful 240-watt motor that rotates the auger at a low speed of 80 rpm to ensure that your vegetable and fruits are properly processed without losing the live enzymes in them.I've never seen my Fruitstar Juicer clog.
It features an innovative pump assembly that resists clogging. It also features a BPA-free construction and an ingeniously designed handgrip that allows for stress-free mobility.
Pros
Minimum oxidation
Very easy to use
Big mouth wide chute
Easy to assemble
Can be carried around easily.
Elegant design
Cons
Consumes much energy
Bulky
Generates heat
Not reasonably priced
This masticating juicer can be used as a citrus juicer as well as a smoothie maker, all in one.
It is a multifunctional juicer that can juice from both citrus fruits and still morph into a centrifugal juicer with just a simple tool change.
The juicer boasts an elegant design the makes it perfect for any modern kitchen design.
The juice quality is more than perfect, and it tastes awesome. NOVIS Vita Juicer functions as a citrus extractor, a smoothie maker, and a juicer perfect for juicing greenie leaves, fruits, and vegetables.
It has a drop-hold spout that prevents juice from leaking out to make sure you get everything that is extracted from the ingredients. Besides, its parts are dishwasher safe and are extremely easy to clean.
This NOVIS Vita Juicer has a single on/off switch that makes it very easy to operate. Cleaning its parts is a breeze, especially since those parts are dishwasher safe.
The juicer features an intelligent sensor that regulates power and automatically reacts to different pulp consistencies.
The NOVIS Vita Juicer is a great piece of innovation, designed to squeeze out quality juice from ingredients.
Pros
Looks classy
Intelligent sensors
Maximum extraction
Automatic reaction to pulp consistencies
Durable
Easy to operate
Cons
Too small
Very inflexible
Noisy
Very expensive
If you know the how much drinking high-quality natural juice can do to your body weight, you'd embark on drinking more juice. You need a juicer that will not interfere with the natural enzymes in the ingredients.
The SHINKODA SK-326H is one of the best juicers for juicing leafy greens, and other ingredients.
It boasts a classy design and features a variety of innovative qualities that contributes greatly to its juicing excellence.
It is made primarily from the best materials available for making machines of its caliber. All its parts are easily detachable which makes it a real convenience, especially to first-time users.
Using the juice is very easy, and you won't need to be taught if you are using it for the first time.
The SHINKODA SK-326H is well suited to juice a variety of ingredients some of which include grapes, vegetable, watermelon, pineapples, pears, celeries, corn, lemon, oranges, carrots, and cucumbers among much more.
It is amazingly lightweight and can, therefore, be easily carried around if need be. It also saves a lot of space and will not occupy much counter space.
​Pros
Easy to clean
Sleek design
Versatile machine
BPA free
Parts are dishwasher safe
Simple design
Cons
Not durable
Too simple
You use your energy
Not reasonably priced
VREMI Slow Juicer might look simple but be sure that it produces an exceptionally healthy juice.
It gently squeezes the juice out of fruits and vegetable such that every nutrient is left intact. The way it works, it minimizes oxidation so that the juice retains its natural taste.
This is a great way from you to gain more control of your diet and even your health.
I would recommend this to people who are looking to shed some extra weight. This juicer is designed to do good work when it comes to juicing healthy juices and offering utmost extraction.
The pulps it leaves is so dry, a clear sign that no single drop of juice is left in them. That makes it an economical choice.
It operates and low speed so that it does not destroy nutrients. It also operates without generating heat.
The VREMI Slow Juicer does not consume much energy like most of its counterparts, and its energy conservation ability is one of the reasons I've stuck to mine for so long.
My previous juicer consumed way too much energy, and my new VREMI Slow Juicer is a great relief
Pros
Great tasting juice
Durable machine
Looks classy
Using is a breeze
Innovatively designed
Saves energy
Cons
Gets jammed
Consumes space
Small capacity
Weak performance
This juicer is especially perfect for juicing wheatgrass. Wheatgrass is known to contain some of the highest concentrations of vitamins, nutrients, and minerals compared to other vegetables and fruits.
Tribest Z-Star Z-510 makes it extremely easy for you to juice wheatgrass and other green vegetables, and fruits at home or on the go.
It is also an affordable option since it doesn't cost much both to buy and use. It features a unique single-auger design that uses a very gentle and efficient process to remove high-quality juice from each single blade of wheatgrass.
The fact that it uses manual extraction process help retain the natural qualities of the juice since no heat involved.
Keep in mind that it can be used to extract juice from numerous other ingredients apart from wheatgrass.
The juicer features a manageable size and is lightweight and portable. It is easy to handle and operate and can be carried from here to there without much trouble.
It has a feed chute that will accommodate even larger pieces of ingredients. You can easily assemble it and disassemble whenever there is a need to do so, thanks to its simple structure.
​Pros
Lightweight design
Portable
Easy to use
Consumes no energy
Consumes little space
High-quality juice
No oxidation
Cons
Use your energy
Inflexible machine
Not considerably priced
Sketchy design
Final Verdict
These are the best juicers for greens, and no one should tell you otherwise. I would recommend any of these to anyone looking to have the yummiest juice for themselves.
These juicers have been tested and have been found to be of excellent quality. Most users have also shown their love for them because they produce the best juice imaginable.